Baking is one of my favorites when it comes to cooking. I love making cakes and cupcakes. How about you?
When I first moved here in the US, I honestly don't know much about baking and I don't even know how to use the oven....lol!
How would you like to make a heart-shaped cake?
You Will Need:
1 Square Cake Pan
1 Round Cake Pan
1 Box of your favorite cake mix
1 Can of your favorite icing (or make your own)
Decorative sprinkles, candy red hots, candy conversation hearts, etc.
How To Make a Heart Shaped Cake: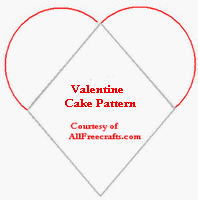 Grease and flour cake pan bottoms.
Mix cake mix as directions require and pour into square and round pan.
Bake as cake mix directions require.
Let cakes cool. When they are cool place the square cake on your serving dish so it looks like a diamond shape and then cut the round cake in half. Put one half of the round cake on each side of the square cake so that it looks like a heart.
Ice cake and decorate with assorted candies.
It is that easy!